Projects/Lockpicks for Dutch Hackerspaces
From Hackerspace Amersfoort
Project Picks for Dutch Hackerspaces
Name
Picks for Dutch Hackerspaces
Start
2019/11/03
End
Contact
user:jwrm22
Website
Information
Jwrm22 bought 20kg lockpicks, 4000 pieces.

This project will supply the Dutch hackerspaces with bags of picks. The project will also document the cleaning process.

Status
Beta
Introduction
Disclaimer: This is my own project Toool and Bitlair are not responsible for the project nor the outcome.
My name is Jan-Willem, member of Bitlair and Toool. Toool is The Open Organisation of Lockpickers, a hobby club for lock and physical security nerds. Any nerd, hacker, maker or security interested that wants to learn lockpicking as a hobby is welcome to join Toool see Toool.nl for details and send a mail to amsterdam [at] or eindhoven [] Toool punkt nl. (If you have ill-intend please don't come to the meetup you'll be disappointed.)
I'm promoting lockpicking as a hobby whenever possible at events and conferences like HITB, HackerHotel and Weekend van de Wetenschap. Mainly by demonstrating and teaching others at a lockpicking village. For this I need many many locks and lockpicks. Lockpicks that can handle abuse and are not expensive. If they break or go missing it won't be a problem. (Note: Please don't steal my picks. A cheap set from china will not cost much and will get you started.)
Recently I came into contact with a scrap iron dealer that had an interesting proposition for me. He had 20kg of lockpicks or about 4000 for sale. We struck a deal and 20kg of scrap metal arrived my house. As with every project scalability is a problem. Making one of something might take a day, making 10 a week but a thousand? The same with this project: cleaning every lockpick myself will take months. Shrink-wrap handles alone will take 400m of shrink-wrap tubing. That's why I decided to bag the picks by 500g and attempt to sell them to lockpicking groups around the world. At this moment I've sold 15kg of the lockpicks.
I've also created bags of 250g for every hackerspace in the Netherlands. These will be delivered by hacker mail in the following days/months/years depending on location.
Grab bag
The bags contain 250g of lockpicks, that's about 50 lockpicks. This is enough to get you started. For most lock you only need one lockpick and one turning tool. Lockpicking tutorials are plentiful so I won't go into detail on how to use the tools. (see resources at the bottom of the page.) The bags do not contain enough turning tools so I'd suggest making a few yourself from wiper blade inserts or street sweeper bristles. Just a few will get you started.
Not all of the lockpicks will be useful, with a Dremel or grinding wheel you can make these useful but that will take some skill or at least picking experience. aMore on this later. I'd prefer if every hackerspace creates a box or Samla with lockpicks and locks to have lockpicks always available. Many Hackerspaces already have a lockpicking box, may these picks be an addition to the kit.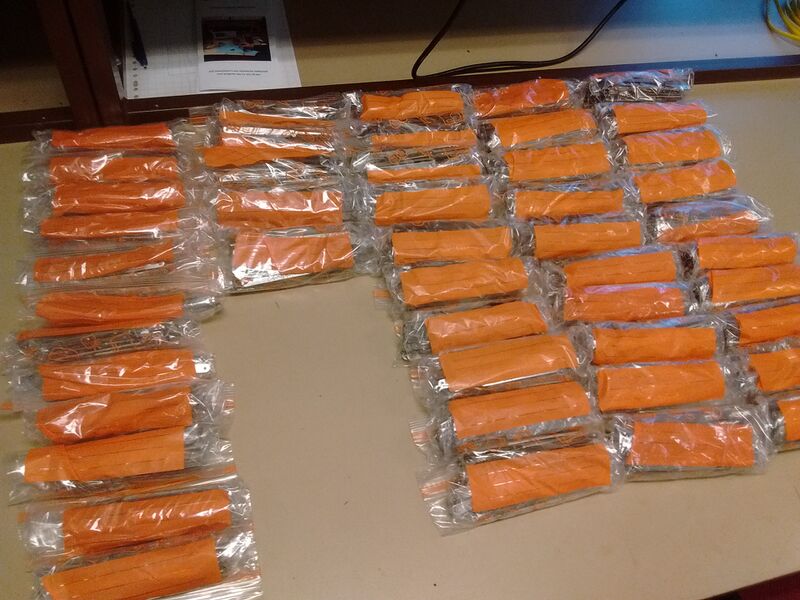 Cleaning process
The lockpicks are rusty but clean up nicely. Most of it is surface rust. I use a cleaning pad unlike Scotchbright, either for metal or wood it does not matter much. (Cleaning sponges with a rough pad are not really useful.) Use a flat table and place the lockpick tip in between the folded pad. Lightly move the lockpick up and down to remove the rust. Every lockpick will take about 30s of work. It does not have to be bright and shiny, just removing the rust will make it useful.
I'd like to shrinkwrap the handles, this is not necessary but will make them look a lot nicer.
Before picture:
After picture: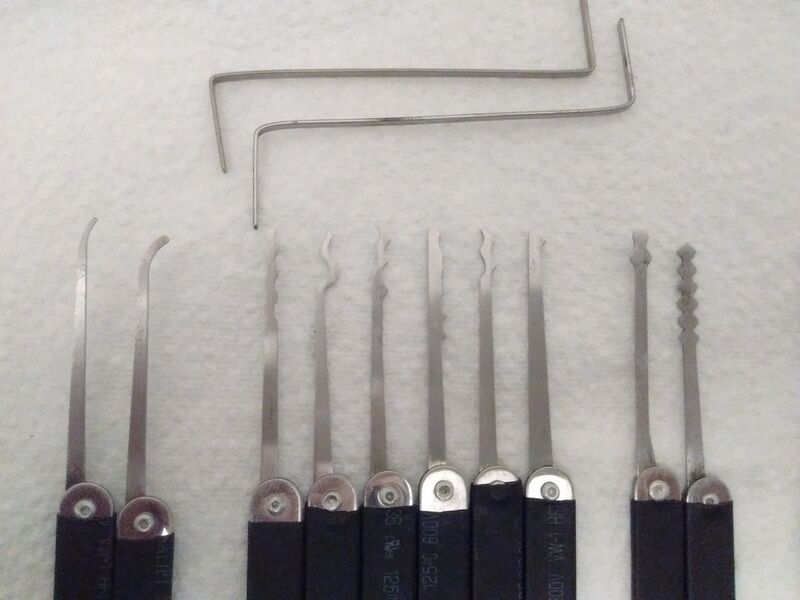 The lockpicks on the left are hooks and are the most useful. In the middle are rakes, use them sparingly and with little force. The picks on the right are most likely useless.
Mandatory testing: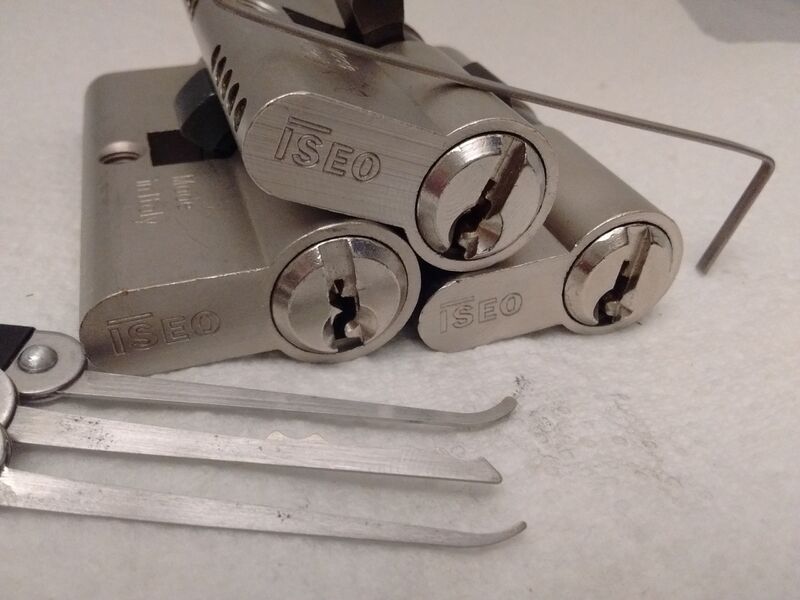 This is a wide selection of the lockpicks you'll find. [Add notes on what tools to use and what tools to toss.] Lockpick vs ISEO.jpeg
Packages
Feel free to edit. Put your name here if you feel responsible for the lockpicks to your hackerspace. The packages are created and will go on hackerspace post the latest end of November.
Hackerspaces:
ACKspace, Heerlen
Bitlair, Amersfoort
Frack, Leeuwarden
Hack42, Arnhem
Hackalot, Eindhoven
Hackerspace Nijmegen, Nijmegen
NURDspace, Wageningen
Pixelbar, Rotterdam
RandomData, Utrecht
RevSpace, Leidschendam
TDvenlo, Venlo
TechInc, Amsterdam
TkkrLab, Enschede

I don't need anything in return but if you don't want to accept a free gift you can always toss lock my way. Any lock is appreciated.
Recources
LockNoob on making turning tools/tentioners: https://www.youtube.com/watch?v=FrSl3H81I2Q