Projects/Led banner
From Bitlair
Project BitBanner (LED-banner)
Name
BitBanner (LED-banner)
Start
2015/03/13
End
Contact
Bobo1on1, Mro, Rogue, X6m, Polyfloyd, Juerd, Stijn
Website
Information
A LED-banner consisting of 16 5 meter long 30 LEDs/meter strips.
Status
Production
Bitlair's new incarnation of blinkenlights: the BitBanner. The BitBanner will consist of 16 5 meter long RGB LED-strips, with 30 pixels per meter. They'll need 5V about 120 Amps. To provide power 24 V power supplies will be used along with 32 step down converters (4 per PCB, designed and created by Bobo1on1).
TODO
Create stepdown power converters done
Cut holes in aluminium profile done
Align and tiewrap LED-strips to cloth done!

Polyfloyd designed and lasercut a custom 'straightener' to align.

Connect power supplies to led-strips wip
Create a controller wip
Shoppinglist/BOI
Drill holes in aluminium profile done
Buy banner fabric done
Buy 2000 cable ties done
Buy bold / nut 100 * 3mm 15mm + rings 200 done
Buy wire for connecting led strips (1 mm2 red/black 32*1m?)
Buy wire for supplying power to pcb's () (2.5 mm2 red/black 12m)
POIDH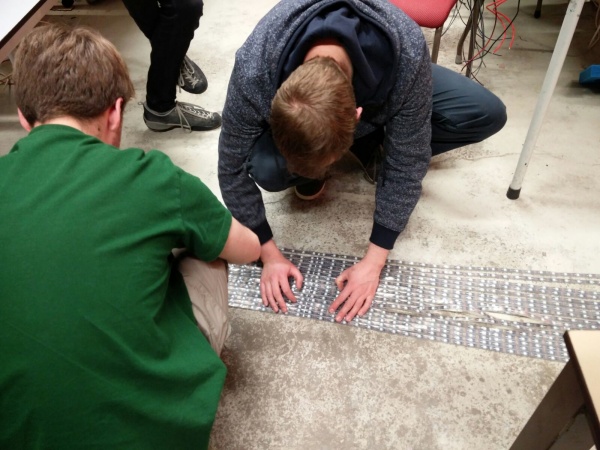 Sorting the LED-strips.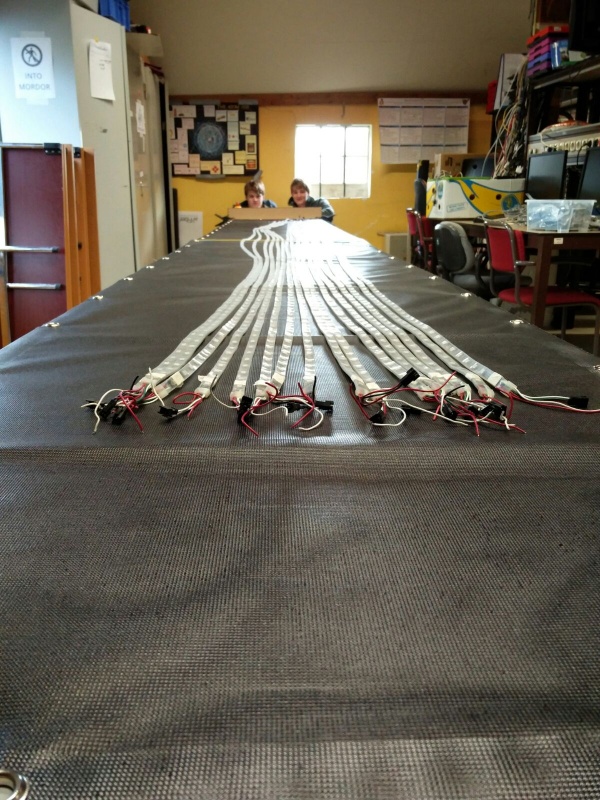 The BitBanner cloth.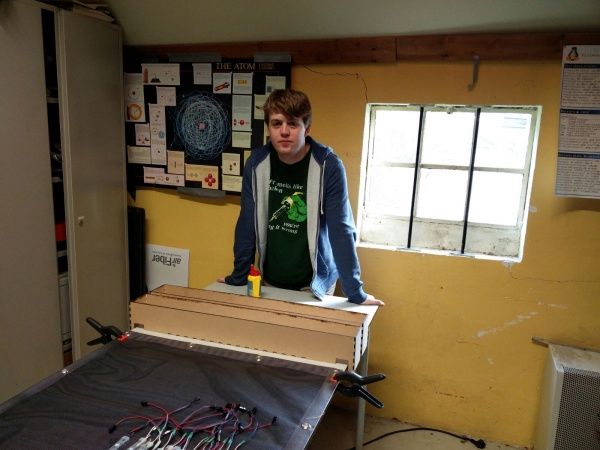 Polyfloyd and his DIY LED-strip straightener.
Aligning the LED-strips.